Thursday Meeting & Seminar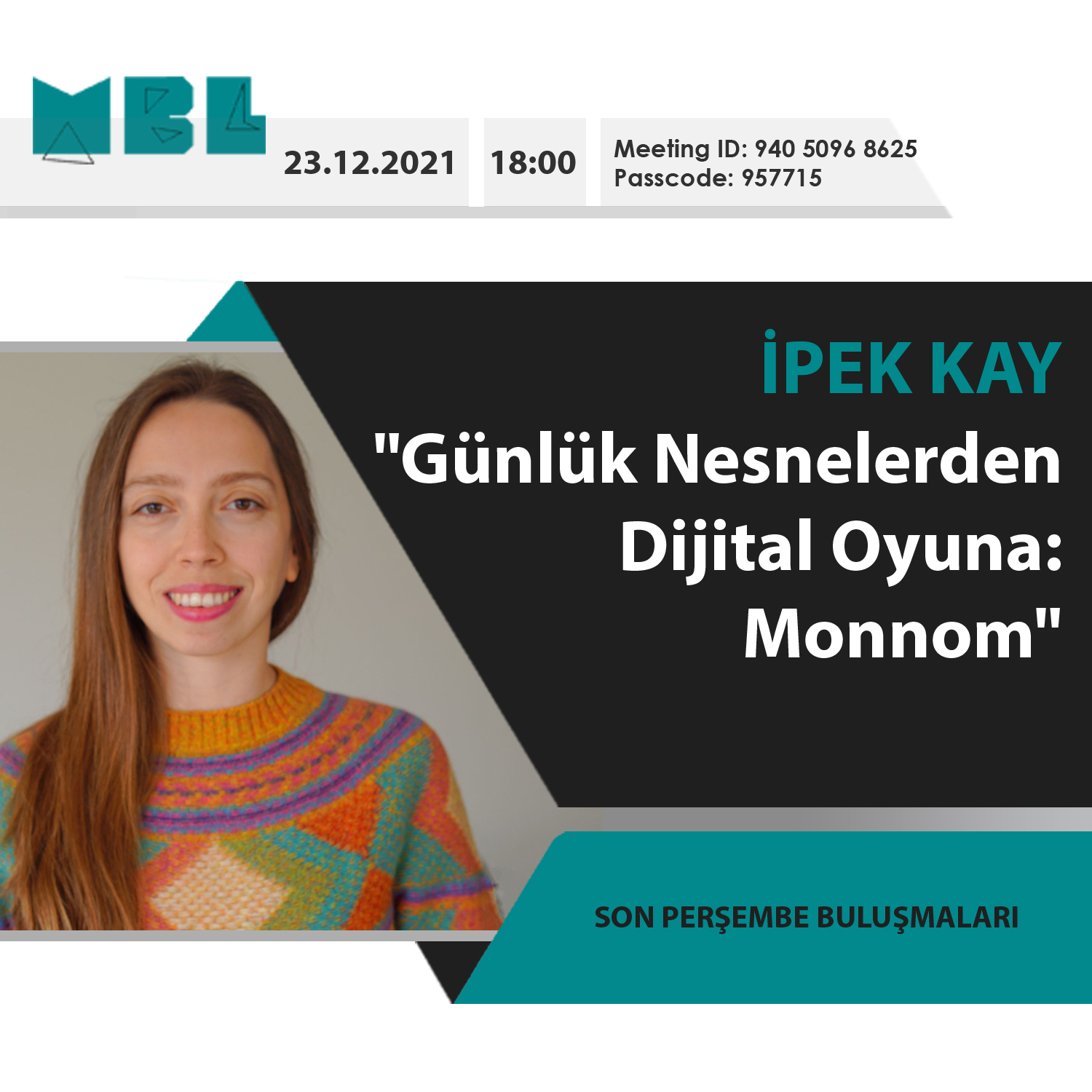 İpek Kay will present an online seminar titled "From Everyday Objects to the Digital Play: Monnom" on her journey from doctoral studies to entrepreneurship as part of the MBL student meeting, on December 23, 2021.
After graduating from the Department of Interior Architecture at ITU, İpek Kay completed her master's thesis in the ITU Architectural Design Program in 2013, focusing on the approach that spatial experiences can be a way to gain knowledge. In September 2021, she successfully defended her doctoral thesis, "Designing Digitally-Enhanced Environments for Children's Play with Everyday Objects", at ITU's Architectural Design Informatics Program. MONNOM, a digital medium that supports children's spatial narratives developed as part of her thesis work, was one of the initiatives funded by the Tübitak 1512 Entrepreneurship Support Program. She continues to work at MONNOM, where she is a founding partner, creating plays that allow children to interact with both physical and digital settings simultaneously. She does illustrations for children's books.
İpek Kay, 23 Aralık 2021'de gerçekleşecek olan MBL öğrenci buluşması kapsamında doktora çalışmalarından girişimciliğe yolculuğunu anlatan "Günlük Nesnelerden Dijital Oyuna: Monnom" başlıklı çevrimiçi seminer verecektir.
İpek Kay İTÜ İç Mimarlık Bölümü'nden mezun olduktan sonra, 2013 yılında İTÜ Mimari Tasarım Programı'nda mekansal deneyimlerin bilgi edinmenin bir yolu olabileceği yaklaşımına odaklanan yüksek lisans tezini tamamladı. 2021 Eylül'de İTÜ Mimari Tasarımda Bilişim Programı'nda "Designing Digitally-Enhanced Environments for Children's Play with Everyday Objects" isimli doktora tezini başarıyla savundu. Tez çalışması kapsamında geliştirdiği çocukların mekansal anlatılarını destekleyen dijital ortam MONNOM, Tübitak 1512 Girişimcilik Destek Programı'ndan hibe desteği almaya hak kazanan girişimlerden oldu. Kurucu ortaklarından olduğu MONNOM'da çocukların fiziksel ve dijital ortamları eş zamanlı olarak kullanmasına yönelik oyunlar üzerine çalışmalarını sürdürüyor. Çocuk kitapları için illüstrasyonlar yapıyor.